Electronic Logging Devices
The electronic logging device (ELD) rule – congressionally mandated as a part of MAP-21 – is intended to help create a safer work environment for drivers, and make it easier and faster to accurately track, manage, and share records of duty status (RODS) data. An ELD synchronizes with a vehicle engine to automatically record driving time, for easier, more accurate hours of service (HOS) recording.
Find relevant information on how the ELD Rule impacts you and your organization: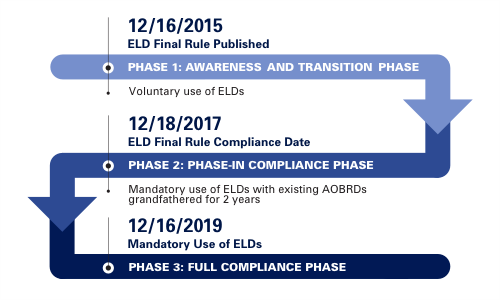 The ELD Rule:
Specifies who is covered by the rule and exceptions to it.
Provides for ELDS to be self-certified and registered with FMCSA.
Includes technical specifications to ensure ELDs are standardized and compliant.
Includes a phased implementation timeline to give drivers and carriers time to comply.
Includes provisions to help prevent data tampering and harassment of drivers.
Creates standard data displays and data transfer processes, making it easier to demonstrate compliance and faster to share RODS with safety officials.