Vehicle Inspection Manual Updated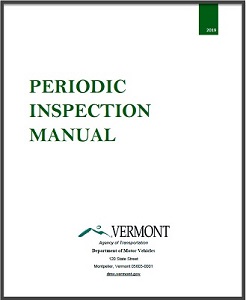 The revised Vermont Periodic Inspection manual has been adopted under the Administrative Procedures Act process and will go into effect July 1, 2019. This past year the Vermont Periodic Inspection manual was revised to address issues identified by the public and industry related to the safety inspection. A great deal of work went into the new revisions after consultation with Vermont industry experts and DMV staff.
The revised Vermont Periodic Inspection Manual (Form VN-113) replaces three separate manuals (School Bus Inspection Manual, Motorcycle Inspection Manual, and Vehicle Inspection Manual)
The new manual is the result of a year-long process to consolidate the 600 plus pages from multiple manuals into one updated version consisting of under 200 pages.
One of the major changes to the inspection manual is the addition of a new  "ADVISORY" category. Using the advisory category inspection stations can alert vehicle owners of items that may be unsafe or illegal although they will not lead failing the inspection. For example, window tint is not legal, but it will not lead to failing an inspection. Tires with a tread depth between 2/32" and 4/32" are legal, but are unlikely to last until the next inspection.