Work Zone Safety is in Your Hands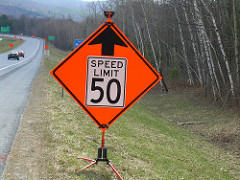 Work zones require everyone to stay alert and be prepared for sudden changes that distracted drivers may not notice in time to prevent a crash. It is up to each of us to be vigilant when driving through or near highway work zones.
But workers are not the only ones in danger. In fact, four out of every five work zone fatalities are drivers or their passengers. To stay safe, remain focused on the road and make sure you obey the speed limit.
On average, three fatalities each workday happen in highway construction areas nationwide. This is something we can prevent, so please join us in raising awareness and driving safely.
Work zone safety doesn't just occur during daylight hours - rules apply 24/7. To help keep work zones safe, please slow down, maintain a safe following distance, stay alert, and expect the unexpected.