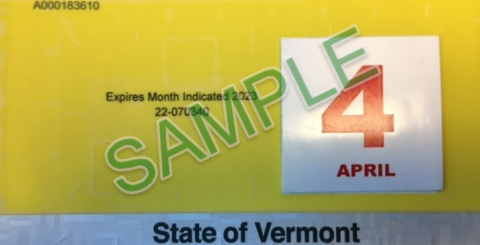 Montpelier, Vt. – The Vermont Department of Motor Vehicles (DMV) is now implementing a new program that enables vehicle inspection stations to print inspection stickers as needed by using a secure Automated Vehicle Inspection Program (AVIP) tablet and a special printer. The print-on-demand process is expected to create efficiencies for the DMV and Vermont Inspection Stations.
"We are taking this opportunity to continue modernization of DMV services," said Commissioner Wanda Minoli. "The new on-demand inspection stickers will enable our Vermont business partners to issue stickers as needed, creating a more efficient and streamlined process, and reducing the burden on small business."
"Years ago, the Senate Transportation Committee discussed the idea of inspection stickers on demand, and I am very pleased to see this new system implemented now," said Senator Dick Mazza, Chair of the Senate Committee on Transportation. "The on-demand stickers will enable Vermont businesses to do this important work in a more streamlined and cost-efficient manner."
Previously, car dealerships and inspection stations ordered books of 20 stickers at a time in advance, and the actual need often did not match the on-site supply. Now, each business has a tablet and printer that enable an efficient and easy sticker-on-demand process.
"We are very excited about this," said Robert Cody, owner of Cody Chevrolet in Montpelier. "This is such a positive change. We just print and issue each sticker as needed, and we are billed monthly for what we actually use. The cooperation between the DMV; the vendor, Parsons; and our business has been great. The support that we get is fantastic."
"We are delighted that DMV and Parsons have simplified the process, making it better for our customers as well as inspection station operators," said Marilyn Miller, Executive Director of Vermont Vehicle and Automotive Distributors Association (VADA).
The new inspection stickers will be one color with the month and year of inspection and vehicle information clearly displayed on the face of the sticker. The color will not change yearly. Like most other states with a vehicle inspection program, the new inspection stickers will now be located in the lower-left corner of the windshield.