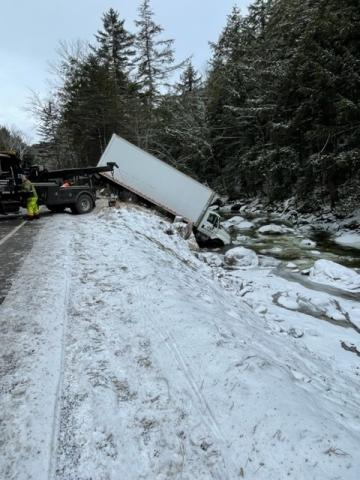 SUBJECT: Crash
DATE: 01/16/2023
INCIDENT NUMBER: 23MV000534
TYPE OF EVENT(S):
LOCATION OF EVENT(S): Route 125  Ripton, VT
INVESTIGATING INSPECTOR(S): Timothy Hanley
ASSISTING AGENCIES: Ripton Fire Department
SUMMARY: A box truck in interstate commerce was traveling west on Route 125 in Ripton. The driver of the truck drove off the south side of Route 125. The truck went down an embankment, resting next to a river. No fluids leaked. The driver was transported to Porter Hospital for possible injuries. 
If you have any information regarding this incident/event, or if you would like more information about this incident/event, please contact the Department of Motor Vehicles Enforcement and Safety Division at 802-828-2078.