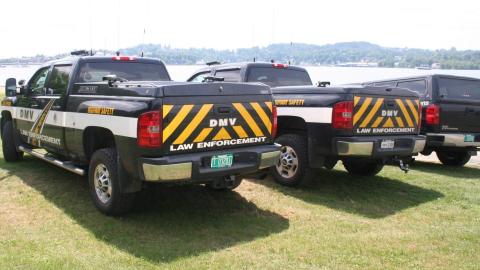 SUBJECT: Commercial Motor Vehicle crash
DATE / TIME OF INCIDENT: 09/06/2023
INCIDENT NUMBER: 23MV00008192
TYPE OF EVENT(S): Single Commercial Motor Vehicle crash
LOCATION OF EVENT(S): Holland Rd Derby, VT
INVESTIGATING INSPECTOR(S): Inspector Jacobs
ASSISTING AGENCIES: VSP, Newport Police Dept, Derby Line Fire Dept, and Ray's Auto
SUMMARY: On 09/06/2023, Inspector Jacobs with the VT DMV Enforcement and Safety responded to a single Commercial Motor Vehicle crash on Holland Rd in Derby, VT. Upon arrival at the scene, the operator, Omar Figueroa, 47, of Albany, NH, stated that he had fallen asleep while driving and traveled off of the roadway, striking a tree and coming to a final position of uncontrolled rest on the north shoulder of the roadway.
The vehicle sustained disabling damages as a result of the crash and was towed from the scene by Ray's Auto. Figueroa was issued a VCVC for failing to maintain his lane of travel. The roadway was reduced to one lane for several hours while the truck was recovered. DMV was assisted on the scene by VSP, NPD, DLFD, and Ray's Auto.
This is an informational post made in the interest of transparency and public awareness of the activities of the Department of Motor Vehicles. For more information about a specific incident, please contact DMV HQ at 802-828-2078.