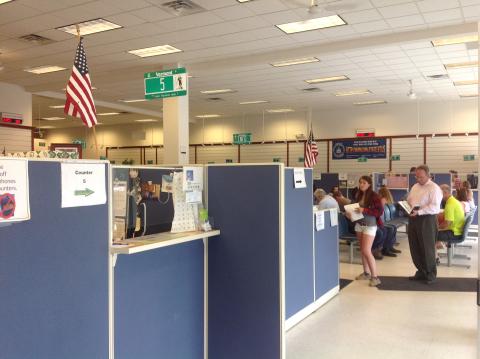 Resumes will not be accepted via e-mail. You must apply online to be considered.
To apply for this position visit; careers.vermont.gov
If you would like more information about this position, please contact Vicki Good.
Overview
The Motor Vehicle Direct Client Service Specialist I is a fast-paced position that requires dealing with large numbers of customers every day. Candidates should be able to work independently and make informed decisions. Attention to detail is critical. The ability to process large sums of money and excellent customer service skills are required for this position. This position will administer road and written tests in inclement weather and will travel to other offices, so reliable transportation is a must.
This is not a remote position and work will take place within the South Burlington DMV offices.
Hourly rates within the Classified Bargaining Unit Pay Plan will change effective July 3, 2022.  At that time, the step 1 starting rate for this job will be $20.00 per hour.
Equal Opportunity Employer
The State of Vermont celebrates diversity and is committed to providing an environment of mutual respect and meaningful inclusion that represents a variety of backgrounds, perspectives, and skills. The State does not discriminate in employment on the basis of race, color, religion or belief, national, social or ethnic origin, sex (including pregnancy), age, physical, mental or sensory disability, HIV Status, sexual orientation, gender identity and/or expression, marital, civil union or domestic partnership status, past or present military service, membership in an employee organization, family medical history or genetic information, or family or parental status.  The State's employment decisions are merit-based.  Retaliatory adverse employment actions by the State are forbidden. 
Total Compensation
As a State employee, you are offered a great career opportunity, but it's more than a paycheck. The State's total compensation package features an outstanding set of employee benefits that are worth about 30% of your total compensation, including:
80% State paid medical premium
Dental Plan at no cost for employees and their families
Flexible Spending healthcare and childcare reimbursement accounts
Two ways to save for your retirement: A State defined benefit pension plan and a deferred compensation 457(b) plan
Work/Life balance: 11 paid holidays each year and a generous leave plan; many jobs also allow for a flexible schedule
Low-cost group life insurance
Tuition Reimbursement
Incentive-based Wellness Program
Qualified Employer for Public Service Student Loan Forgiveness Program