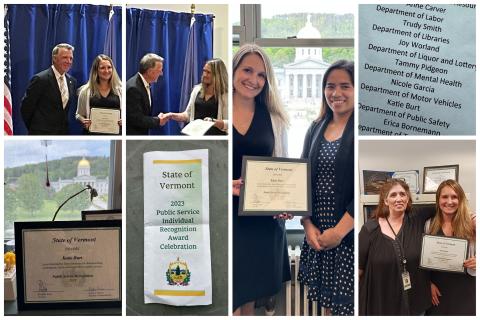 Earlier this week, the State of Vermont recognized all 2023 Vermont Public Service employees, including Katie Burt from DMV.
Being present with Katie was a great honor as she received her recognition.  Katie is a shining example of the values we hold dear at the Vermont DMV, and her recognition as a recipient of the 2023 Vermont Public Service Recognition Award is a testament to her exceptional contributions. I am confident that she will continue to excel in her career, serving as an inspiration to others and making a positive impact on our community.
Katie's peers unanimously recognized her exceptional customer service skills, which consistently exceeded expectations. Not only does Katie excel in her customer service responsibilities, but she also actively promotes a welcoming work environment for her fellow employees. Her friendly and approachable demeanor fosters a sense of unity and collaboration among her team members.
Please join me in congratulating Katie Burt on this well-deserved honor. Her dedication, exemplary customer service, and commitment to being a positive role model are truly commendable, and she serves as a source of pride for our entire organization.
Commissioner Wanda Minoli