Vermont Strong '23 commemorative license plates to benefit and recognize those who suffered losses from the July 2023 flooding and commemorate the contributions of the many people helping to rebuild Vermont and make it stronger are now available.
The recipients of the funds raised through sales are the Vermont Community Foundation, to help provide disaster relief to individual Vermonters, and the Agency of Commerce and Community Development's Business Emergency Gap Assistance Program, to help provide disaster relief to Vermont businesses and farms.
The DMV has also partnered with Darn Tough Socks to create a bundle of the "Tough Too!" plate and Vermont Strong socks for $70. Limit three bundles per person. Available online only and for a limited time.
The two license plates are now available online and in all DMV offices.
To place an order online or make a donation, visit our Vermont Strong storefront.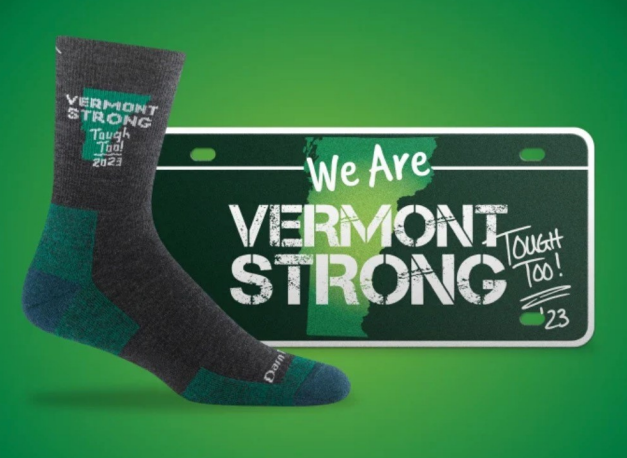 Direct donations may also be made online and will benefit Vermonters who have been affected by the floods. The donations will go to the Vermont Emergency Donations Special Fund for purposes of Emergency Management. For example, some of this funding will go to the Manufactured Home Improvement and Repair Program to remove and dispose of flood-impacted manufactured homes and/or grants to replace a manufactured home.
Bundles receive a voucher for the socks that must be redeemed with Darn Tough directly. You will receive instructions for redemption with your voucher.
Retailers may place orders to sell at their businesses by visiting our Vermont Strong storefront.